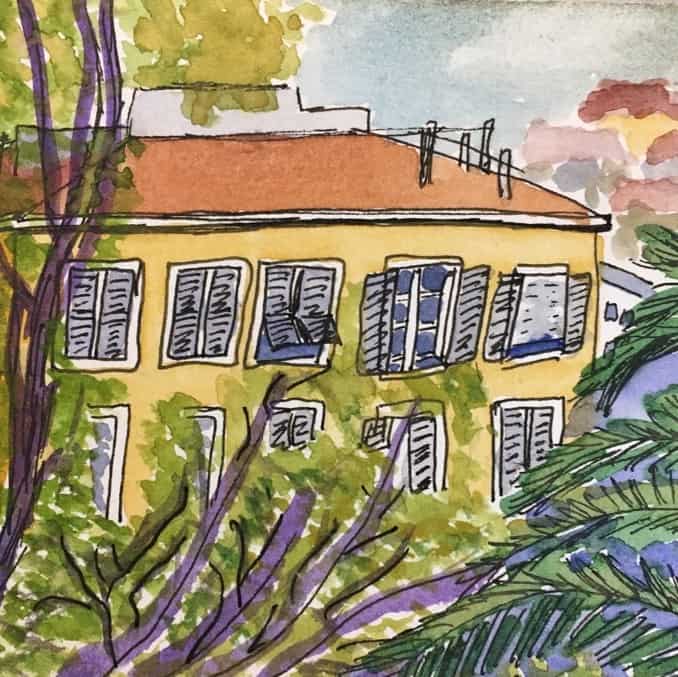 Umeeta Sadarangani
Umeeta Sadarangani has been studying art and exhibiting her work since the early 2000s. She creates two-dimensional works in watercolor, acrylic, and mixed media, and is a knitter as well as a writer. She likes to make things.
Umeeta's writing and visual art are influenced by growing up in India and Kuwait, navigating the immigrant experience in the United States, coming out as a lesbian during graduate school out East, and making a home in the Midwest. Umeeta's blog, Transplanted on the Prairie (transplantedontheprairie.blogspot.com), reflects these influences. Her other writing can be found at https://works.bepress.com/umeeta-sadarangani/.
Umeeta is a Professor of English at Parkland College, where she teaches writing, literature, and a humanities course on South Asian cultures.
Artist Statement for Queering UP the Arts
An exhibit at the University YMCA, sponsored by the UP Center
2019 Boneyard Arts Festival
These postcard-size watercolors were created on trips with my partner (now wife), Marilyn. We have traveled frequently in our twenty years together, years that have overlapped with my return to making art. Making art is a way for me to slow down and to pay attention.
At least once on each trip, I take a break to paint while looking out the window. The paintings of Nice, France, and Canterbury, England, show the views from where we stayed. The painting of the Duomo in Florence, Italy, was made from a photo I had taken the previous day. The Duomo is visible from many parts of the city, but when we passed by that spot later in our ten-day stay, we both recognized the view because of my painting. It made the city feel more familiar.
In all my work, I am drawn to intense, vibrant color, which is intrinsic to Indian culture, in which I was raised. I am also drawn to media that allow the artist's marks to be evident, marks that remind us of one-of-a-kind, human creations in a world of slick, easily-reproducible images.