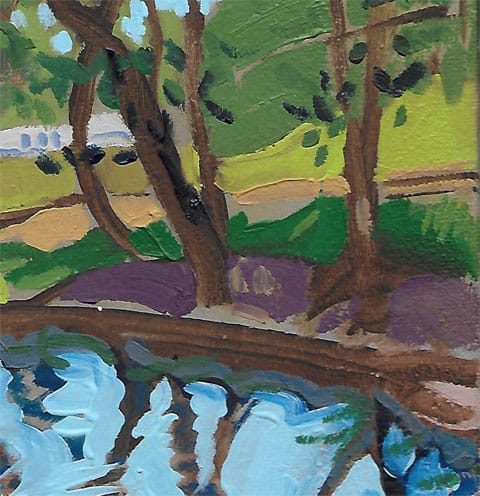 Beth Darling
Beth Darling's painting studio in suite #518 of the Lincoln Building at 44 East Main Street in downtown Champaign features current work in progress: garden paintings, New Mexico landscapes and vibrant often whimsical still lifes of colorful folk art and fiestaware.
Originally from Canada, Beth grew up in rural New Jersey and then studied fine art at the Maryland Institute College of Art and the School of the Museum of Fine Arts in Boston, Mass.
After art school Beth spent a summer on the French coast in Normandy painting with Jason Berger and a small group of students from the Art Institute of Boston learning to paint "en plein air" that is; outside on location with portable folding easels. In France, Beth fell in love with the experience of painting the landscape from direct observation rather than in the studio from photographs.
In 1988 Beth moved from New York City to Albuquerque New Mexico with her husband, Ed Maclin, and was able to realize her dream of painting in the "land of enchantment" Together they enjoyed hiking, camping and painting trips to remote locations among the canyons and arroyos in the mountains of Northern New Mexico. Beth exhibited and sold her paintings in galleries in Santa Fe and Albuquerque.
Years later, after relocating to Illinois, she continued to visit New Mexico each year to paint in some of her favorite places; Jemez Springs, Chaco canyon, Ghost Ranch and the pueblos and Hispanic villages of the of the Rio Grande Valley.
Beth Darling currently lives in Urbana and paints in her large sunny studio on the top floor of the historic Lincoln Building at 44 East Main Street in downtown Champaign.
For inquiries please email beth_darling@hotmail.com.