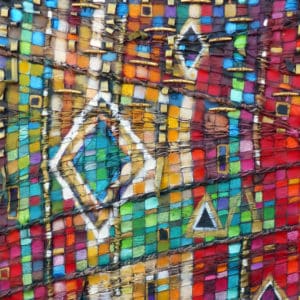 40 North is thrilled to announce the Signature Image for the 2019 Boneyard Arts Festival! After evaluating 90+ outstanding submissions, a panel of local arts professionals selected Robert Chapman's Weaving #5, mixed media and assemblage on woven canvas, to be the signature image of the 2019 Boneyard Arts Festival! The Boneyard Arts Festival signature image is featured on all festival registration materials, posters, postcards, billboards, print and online advertising, as well as on the cover of the Boneyard Arts Festival quick guide.
"I originally began doing weavings in Arizona for Phoenix Art Press around 1993-94. As a large commercial art company they had quite a few canvases that had not been sold over the years. I began by cutting those up and weaving them into large woven wall hangings on which I would paint, draw, and add various assemblage elements. They were all different sizes from 12″x12″ to the biggest which was 6'x12′. I begin by stretching a canvas on a big sheet of 3/4″ plywood. Then I draw a design on the canvas and start adding textures with molding paste as well as a rougher texture made with vermiculite and pencil shavings mixed with matte medium. Then I cut that canvas into 1 inch vertical strips, adding other vertical weaving elements of ropes and/or strings, sometimes wrapping some of the vertical strips with string or strips of canvas. Other elements are added including orange plastic fencing or rattan pieces. At that point I start to weave the horizontal pieces, again sometimes weaving with rope and also wrapping the horizontal pieces and so on and so on. When the piece is completely woven, I paint it with a ground of black gesso. In the last stage I paint it with acrylics and add a final layer of colored pencils. Each weaving is very different and a distinct sequence of techniques may happen each time."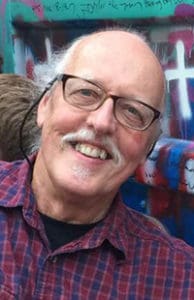 Born in 1948 in Newton, Kansas, Robert Chapman moved to Phoenix, Arizona when he was 9 years old and graduated from Arizona State University in 1976 with a BFA in printmaking (specializing in relief and intaglio.) Right after graduation, Robert started his first business, Robert Chapman Needlepoint Design, and in 1984 used profit from the sale of the business to take 2 1/2 years off to draw and paint. He taught himself quilting, beadwork, and embroidery and won first place in Arizona State Designer/Craftsman group show with one of his large tie quilts as well as honorable mention for an embroidered snake. After his self-imposed sabbatical, he went to work for a large commercial art company, Phoenix Art Press (now Phoenix Art Group), in 1986. Robert was initially assigned grunt work in the etching department but eventually became head of the department, while also developing into a more independent artist creating his own line of works. Robert then established paper making and weaving studios in Tempe, employing many of his artist friends while continuing to create lots of paintings on canvas and paper inside the studio. In 1996, he started his own commercial art company, Robert Chapman Fine Art, which continued until his retirement in January of 2018. In 2007, Robert sold his home/studio in AZ and moved to a new home/studio just north of Champaign. He was beyond fortunate to meet his future wife, Jan, on 11/11/11, and they were married a year and a half ago. Robert recently sold his house north of town and set up a new studio in Urbana in Jan's 3 generation family home. Robert continues to maintain two studios in the Lincoln Building and will be showing this Boneyard in his studio on the third floor, #321.